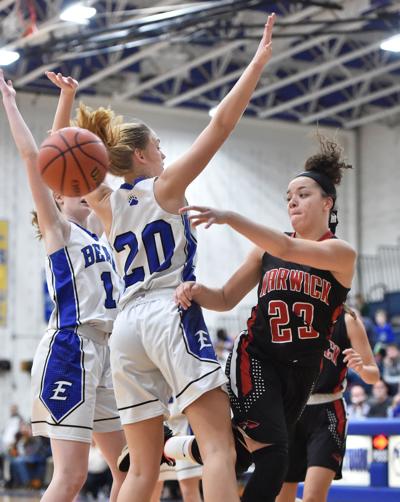 L-L LEAGUE GIRLS BASKETBALL STANDINGS, STATS
SECTION 1
Cedar Crest 42, Penn Manor 33 — It wasn't easy, but the Falcons remained alone atop the section chase after holding off the pesky Comets. Raven Morgan (14 points), Reese Glover (season-high 11 points) and Hannah Woelfling (10 points) paced Cedar Crest, which led 23-17 at the half, and then withstood Penn Manor's comeback chops. It was the Falcons' third victory in a row. Morgan Miller and Kate Levato had 9 points apiece for the Comets, who had won three of their last four games.
Manheim Township 39, Hempfield 22 — Another night, another big scoring effort for Katie Bushong. And, more importantly, another victory for the Blue Streaks, who remained alone in second place, right on Cedar Crest's heels with their fourth victory in a row. Bushong bucketed 19 points, and Township opened up some breathing room with a 14-6 third-quarter burst. Lindsey Durkota had 9 points for the Black Knights, who were within 17-11 at the break, before Township's game-changing third-quarter run.
SECTION 2
Warwick 36, Conestoga Valley 33 — For the second Friday night in a row, the Warriors pulled off a riveting fourth-quarter rally. Last Friday, Warwick trailed by 10 points with three minutes to go before coming back to stun host Elizabethtown. Against the Buckskins, the Warriors trailed 24-13 at the half and 28-22 heading into the fourth quarter. But Warwick closed the game on a 14-5 clip and rallied past CV. Lailani Batty — who had 18 big points in the come-from-behind win over E-town last week — had 9 points to pace the Warriors. Kenzie Reed popped in a game-high 14 points for the Bucks, who suffered their eighth loss in a row — this one in heartbreaking fashion.
Friday's other Section 2 clash featured first-place E-town on the road at Lebanon. Not only did the Bears win to remain alone atop the section heap, but senior sniper Marena Lonardi joined the 1,000-point club. Here's the story, plus video of Lonardi's milestone bucket …